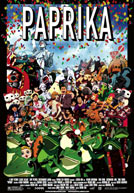 From acclaimed Japanese director, Satoshi Kon, best known for his films,
Perfect Blue
,
Millennium Actress
and
Tokyo Grandfathers
.
The screening is open to the general public and is free. Screening courtesy of Comparative Media Studies at MIT and Sony Pictures.
Born on October 12, 1963 in Hokkaido, Satoshi Kon went to Musashino Art University and studied Visual Communication Design. While at the University, he made his debut as a comic artist at Young Magazine (published by Kodansha, Japan). His detailed illustration and composition became highly regarded, and he went on to work on Kaikisen (Regression Line) and World Apartment Horror. His work includes: Roujin Z, as a background artist; Run, Meros as a layout artist; Patlabor 2 as a background and layout artist, and Memories as a background and layout artist and screenwriter. His unique composition where everything within the frame is clearly defined and cleverly laid out attracted the industry's attention. In 1998, he made his directorial debut with Perfect Blue which gained him international attention. 2002 saw the release of his second film Millennium Actress and in 2003, Tokyo Godfathers debuted. All of his feature films have been screened at the top international film festivals around the world. In 2004, he directed his first television series, Paranoia Agent. Paprika is his latest anime feature.