5/18/07: Paprika Sneak Preview, 5pm, Room 26-100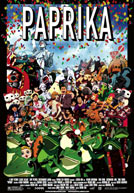 From acclaimed Japanese director, Satoshi Kon, best known for his films,
Perfect Blue
,
Millennium Actress
and
Tokyo Grandfathers
.
The screening is open to the general public and is free. Screening courtesy of Comparative Media Studies at MIT and Sony Pictures.
Born on October 12, 1963 in Hokkaido, Satoshi Kon went to Musashino Art University and studied Visual Communication Design. While at the University, he made his debut as a comic artist at Young Magazine (published by Kodansha, Japan). His detailed illustration and composition became highly regarded, and he went on to work on Kaikisen (Regression Line) and World Apartment Horror. His work includes: Roujin Z, as a background artist; Run, Meros as a layout artist; Patlabor 2 as a background and layout artist, and Memories as a background and layout artist and screenwriter. His unique composition where everything within the frame is clearly defined and cleverly laid out attracted the industry's attention. In 1998, he made his directorial debut with Perfect Blue which gained him international attention. 2002 saw the release of his second film Millennium Actress and in 2003, Tokyo Godfathers debuted. All of his feature films have been screened at the top international film festivals around the world. In 2004, he directed his first television series, Paranoia Agent. Paprika is his latest anime feature.
Synopsis
29 year old, Dr. Atsuko Chiba is an attractive but modest Japanese research psychotherapist whose work is on the cutting edge of her field. Her alter-ego is a stunning and fearless 18 year old "dream detective," code named PAPRIKA, who can enter into people's dreams and synchronize with their unconscious to help uncover the source of their anxiety or neurosis. At Atsuko's lab, a powerful new psychotherapy devise known as the "DC-MINI" has been invented by her brilliant colleague, Dr. Tokita, a nerdy genius who is rather too fond of his food. Although this state-of-art devise could revolutionize the world of psychotherapy, in the wrong hands the potential misuse of the devise could be devastating, allowing the user to completely annihilate the dreamer's personality while they are asleep. When one of the only four existing DC-MINI prototypes is stolen in the final stages of research, and simultaneously Dr. Tokita's research assistant, Himuro, goes missing, Atsuko suspects it's not a coincidence. Several of the remaining researchers at the lab start to go mad, dreaming while in their waking states, haunted by a Japanese doll which featured heavily in the dreams of one of Himuro's schizophrenic patients. Atsuko now knows for certain that the DC-MINI is being used to destroy people's minds. She fears that not only will the government refuse to sanction the use of the machine for psychotherapy purposes when it becomes public, but whoever is manipulating the machines has a more evil purpose in mind.