GAMBIT Highlights a Year of Development & Research: Elementalyst
Summer is fast approaching at the GAMBIT MIT-Singapore Game Lab. In a little under two months the second class of GAMBIT summer interns will descend upon Boston to work with MIT faculty, students and staff in pushing the limits of video game research.
Expectations are high. A number of the games developed during GAMBIT's inaugural year have been extremely well received: Backflow was a 2008 Independent Games Festival finalist in two categories (Best Mobile Game and Innovation in Mobile Game Design) and AudiOdyssey was recently chosen to be featured as a postmortem at Gamasutra. The GAMBIT Singapore Lab is currently putting the finishing touches on Backflow and Wiip for their June 2008 release, and AudiOdyssey will undergo a major redesign this summer to prepare it for publication.
The past year has been a whirlwind of Scrum meetings, game development, testing and of course playing as many games as we can (we like to call it "research"). To help us remember it all, over the next few weeks we'll be highlighting some of the games developed at GAMBIT. Today we'll be looking at Elementalyst.
---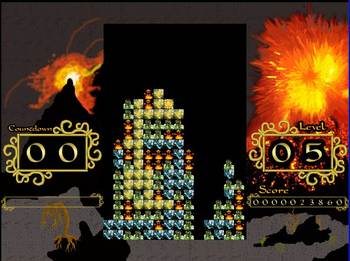 Elementalyst is a single player casual game modeled after games such as Lumines and Puzzle Fighter. Players build chains of each element while awaiting the arrival of the catalyst block. When the catalyst finally appears it induces a series of chain reactions between the three elements and helps clear the screen. The player's goal is to build larger and larger chains for more combos and more points.
As GAMBIT's first game development team, the main goal of the project was to expose students and staff to the process of game development in early 2007. Students were responsible for evaluating various software packages – including GIMP, an open-source graphics editor similar to Photoshop, and Microsoft's XNA – as well as test drive the Scrum Software Development Methodology, which has now been adopted by all of GAMBIT.
Working on Elementalyst has even persuaded some students to pursue game development as a career. "I love seeing all the different aspects that go into making a game and working alongside other students to produce something great," said Elementalyst programmer Jim Wilberger. "I could definitely see myself doing this for many years to come."
Despite the trials and tribulations of designing a video game for the first time, the majority of students on the Elementalyst team returned to GAMBIT over the summer or during the fall and spring terms. It just goes to show that we here at GAMBIT just can't get enough when it comes to games.
Elementalyst was created by Mark Grimm, Sharat Bhat, Jonathan Johnson, Jim Wilberger, Jamie Jones, Chris Casiano, Ben Decker, and contains original music by Jeremy Flores. Elementalyst can be downloaded here.