GAMBIT Highlights a Year of Development & Research: AudiOdyssey
This is part two of a multi-part series reflecting back on the games developed during the first year of the Singapore-MIT GAMBIT Game Lab, a five-year research initiative created to address important challenges faced by the global digital game research community and industry. Today we focus on AudiOdyssey, one of many games developed during the summer internship program.
---
AudiOdyssey is a rhythm video game which stars Vinyl Scorcher, a DJ in a nightclub trying to get people to dance. By matching various rhythmic sequences, Vinyl adds different tracks to a song to get club goers moving. However, if the party gets too crazy, there's a chance Vinyl's table might get bumped, causing him to lose tracks and forcing him to resynch his music. A single-player PC game, the user can control the game either with the keyboard or with the Nintendo Wiimote.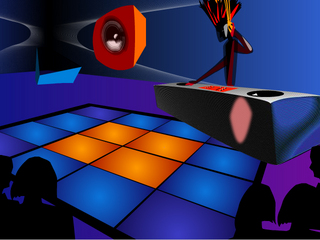 So, what's the research the game is based on? Well, AudiOdyssey is a fun game designed for everyone to enjoy, regardless of their level of sight. What does that mean? A blind individual can play AudiOdyssey just as well as a sighted person, and vice versa; furthermore, if we accomplished our research goal, both groups should enjoy the game with a similar challenge level. This was the original goal of the project – to create a game that both the sighted and non-sighted could play together and share a common gaming experience.
Press play for a video walkthrough of the game.
The game serves as the research for Eitan Glinert's Master's thesis, and Eitan is currently conducting game testing here at MIT to determine how effective it was in achieving its goals (if you are in the Boston area and want to help out with testing, drop him a line at glinert [at] mit [dot] edu.) This coming summer, a spiritual sequel to the game will expand on what was learned in the first version and improve on the weak areas. Most notably, the new game will likely have an online multiplayer element, so that people in remote locations with varying levels of eyesight will be able to play the game together.
AudiOdyssey was created by Eitan Glinert, Lonce Wyse, Dominic Chai, Bruce Chia, Paviter Singh, Mark Sullivan, Edwin Toh, Jim Willburger, Yeo Jingying, and contains original music by Guo Yuan. AudiOdyssey can be downloaded here.