GAMBIT Highlights a Year of Development & Research: Backflow
This is part four of a multi-part series reflecting back on some of the games developed during the first year of the Singapore-MIT GAMBIT Game Lab, a five-year research initiative created to address important challenges faced by the global digital game research community and industry. Last time, we looked at Wiip, a casual game designed to exploit the expressibility of the Wiimote. Today we focus on another game developed during the summer internship program, Backflow.
---
Backflow is a casual city simulation designed for mobile phones. Unlike games like SimCity, where players build the city themselves, players help their city grow by managing the waste disposal infrastructure of the city.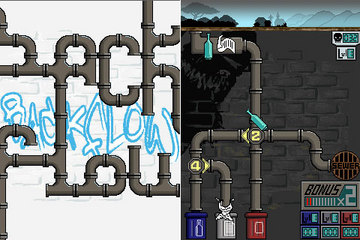 Players direct the flow of the city's waste through underground pipes by controlling the flow at each intersection. Each type of waste must be sorted into the appropriate bins so that it can be brought to the correct processing facility. As items are recycled they turn into resources that can then be traded with other players or used to purchase upgrades for the city. Upgrades attract more people, which in turn cause more waste to be produced at a faster pace. If waste is sorted into the wrong bins, however, pollution increases in the city and people begin leaving in droves.
Press play for a video walkthrough of the game.
The research goal for Backflow was to design a "participatory simulation", a multiplayer game where the collective behavior of the players helps to shape the simulation. Fabian Teo, one of the artists on the team, saw a similar relationship between the actions of individuals and the environment and thus the idea for a game about waste management and recycling was born.
The resulting game was designed as a casual-style game that borrows elements from both city simulations and resource management games. The hybrid nature of the game allows Backflow to be played for only a few minutes but also makes room for long-term strategy. The game also requires that players work together to trade surplus resources in order to purchase city upgrades that require scarcer resources.
Backflow was a 2008 Independent Games Festival finalist in two categories: Innovation in Mobile Design and Best Mobile Game.
An extended version of Backflow is currently being developed at the Singapore branch of the GAMBIT Lab.
Backflow was created by Marleigh Norton, Eric Klopfer, Neal Grigsby, Zulkifli Salleh, Brendan Callahan, Fabian Teo, Chen RenHao, Wang Xun, and Nguyen Hoai Anh, and contains original music by Guo Yuan and sound effects by "Fezz" Hoo Shu Yi. Backflow can be downloaded here.