Global Game Jam
The Global Game Jam has started at MIT! Check out our live webstream and chat on Ustream.
The Singapore-MIT GAMBIT Game Lab will be the host site in Boston for the 1st Annual Global Game Jam, from January 30 through February 1, 2009. Other sites around the world will run game jams with similar rules and limitations, with one unique constraint at each site.
How it works
A game jam is a cooperative gathering of game developers to encourage experimentation and innovation. It starts at 5pm on Friday with friendly introductions, followed by a run-through of the rules, the theme, and the constraints. Participants then quickly come up with ideas and pitch them to everyone else. Once everyone has formed or joined a team, the groups split up for further brainstorming around the idea, and reconvene in a shared workspace with the other teams to start development.
Finished games are handed in at 3pm on Sunday, after which everyone plays all the other games and votes for their favorite. The winners get kudos, and bragging rights. All finished games will be uploaded to the Global Game Jam website.
Some constraints
Participants should go home for a shower and a good night sleep in the evenings. The workspace will be closed from midnight to 9am in time for the last subway train. Breakfast will be provided on both mornings. Participants may choose to pool their funds for lunch or dinner delivery or may opt to eat at nearby establishments.
The rules of the game jam prohibit the use pre-made content (this includes program code, audio, graphics, models, etc.) unless it was publicly available at least a month prior to the game jam. Contact philip AT mit DOT edu if there are any questions.
Registration
Registrants must be over at least 18 years old to participate. The jam is largely targeted at game development professionals and college students with game development experience. Participants should not plan to register as teams. The jam is limited to 30 participants, with last-minute priority for professionals. There is no fee for registration.
If space is available, participants should receive an email confirmation within a week.
Location and Timing
The game jam will be held at the Singapore-MIT GAMBIT Game Lab on the third floor of 5 Cambridge Center, Cambridge, MA. Participants should plan to arrive well before 5pm on Friday, January 30, 2009 and to participate for the full duration of the event, which should conclude by 6pm Sunday, February 1, 2009.
Facilities
Development workstations will be provided with the following configuration.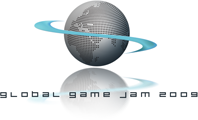 Windows XP Professional with SP3

Visual Studio Professional 2005 and 2008

Eclipse

Adobe Photoshop CS3

Adobe Illustrator CS3

Adobe Flash Professional CS3

Adobe Flex Builder 3

YoYo Games Gamemaker

Perforce (P4V)

Source/Hammer

Maya 2009

3ds Max 2009

Motionbuilder 7.5

B&W and color printing
Audio workstations will be configured differently. A limited number of scanners and graphic tablets are available on request. The organizers take no responsibility for the safety or condition of personal equipment and belongings.
Intellectual Property
All Games, Ideas, Art, Code and Concepts made during the Global Game Jam are owned by the members of that team. This includes all aspects of intellectual property, including Patents, Trademarks, Designs and Copyright. In the spirit of a game jam there are often many people helping one another. When appropriate acknowledgements will be made to those parties, all members of the team are held to standard industry practices of collaboration.
All participants of the Global Game Jam will allow their game to be archived on the Global Game Jam website in the form it was submitted at the end of the game jam on February 1, 2009. Participants may ask to have an update of their game posted with notice of version information.
All materials made at the Global Game Jam can be used for demonstration and lecture at conferences, schools or industry venues (example: GDC 2009) with the expressed discretion of the Global Game Jam, the IGDA and IGDA Education SIG.
As an initiative of the IGDA, the Global Game Jam is fun and trying to keep things simple. Rule of thumb is that team are not going to illegally exploit others' IP, and that in turn, everything we create becomes part of the public domain. Participants agree that their participation in the Global Game Jam will hold no one liable for any loss or damage.
The information available on the website is provided by the local host. In no event will MIT, the Singapore-MIT GAMBIT Game Lab, The Global Game Jam or the International Game Developers Association its officers, directors, employees or agents be liable for any direct, indirect, incidental, special, punitive, or consequential damages whatsoever arising under or as a result of participation in The Global Game Jam.