The Pleasures of Old School Resident Evil - Battling Rampaging Sex Monsters
While the Resident Evil series has its share of female protagonists, they tend to be less capable than their male counterparts. The female protagonist of RE1, for example, comes equipped with a designated male savior who assists her the entire game. This cycle of the main female protagonist needing to be saved at various points by men is reiterated throughout the series, notably appearing in RE3 and RE: Code Veronica. RE4 doesn't even feature a female protagonist and is instead based entirely around a male protagonist babysitting a helpless teenage girl.
Resident Evil 2, interestingly, doesn't feature any such devices and thus feels significantly less misogynistic than the rest of the series. Of RE2's four playable characters--Claire the biker, Ada the spy, Leon the cop, and Sherry the civilian--three of them are female, and two out of those three are not portrayed as being at all submissive or needing help (Sherry being the exception). The lone male playable character, Leon, is not particularly masculine. He has androgynous features, and his attempts to "take charge" get undercut repeatedly by the women in the story. Claire bosses him around most of the time, and Ada repeatedly ignores his advice. ("Why doesn't anyone listen to me?" he laments midway through the game.) Leon is not portrayed as a joke exactly, but he is certainly not a hyper-masculine hero. The rest of the men in RE2's story--sadistic Police Chief Irons, sleazy reporter Ben, and mad scientist William Birkin--are in general selfish, awful people who meet horrid ends.
THE CAST OF RESIDENT EVIL 2
| | | | | | |
| --- | --- | --- | --- | --- | --- |
| | | | | | |
| Leon | Ada | Claire | Sherry | Chief Irons | Ben |
It's significant, I think, that the antagonists in RE2 are predominantly male, while the protagonists pitted against them are predominantly female. I am not speaking of the zombies, of course, but the male characters who are the real villains of the story. The most significant of these is Dr. William Birkin, Sherry's father, who has been transformed into a rampaging mutant by a virus he engineered. Birkin spends the entire game chasing after his daughter in a effort to infect her with his virus, which he spreads by attacking people with his writhing, telescopic tentacles. This lingering threat--with its thinly veiled implications of incestual rape--is the real horror at the heart of Resident Evil 2, the horror Claire spends the whole game trying to save Sherry from, the horror that is, in certain ways, much scarier than a mere zombie apocalypse.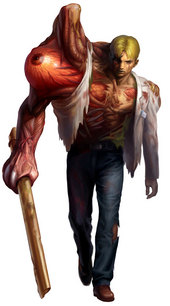 Dr. William Birkin