5/1/09: Videogame Research and Development Open House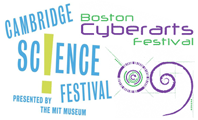 With the 2009 Boston Cyberarts/Cambridge Science Festival!
Singapore-MIT GAMBIT Game Lab
May 1, 2009, 2pm-6pm
5 Cambridge Center, 3rd Floor,
Cambridge, MA 02142
How are videogames made? Come to MIT and participate in the process of game development! Play games currently in development and learn about the innovative ideas behind them. Talk to the artists, designers, programmers, and managers that work together to produce an enjoyable, entertaining experience. Learn about the history of great digital games from Boston and Cambridge, and get a glimpse of a day in the life of a game research lab!
Admission is free. Kids, families, teens, and adults are welcome!

For more information, please email gambit-request@mit.edu.