11/04/09: Eran Egozy presents the Harmonix Story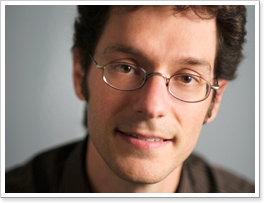 6.078 (The Founder's Journey) presents a special presentation by Eran Egozy, the co-founder of Harmonix Music Systems. Eran will be speaking at the Singapore-MIT GAMBIT Game Lab on Wednesday, November 4, 2009, from 3:30pm to 5pm.
Eran will talk about how Harmonix got started, what he and Alex Rigopulos did at the MIT Media Lab that sparked the big idea for Harmonix, and describe the long road leading up to Guitar Hero and Rock Band. He will also discuss what they learned about making their products appeal to mass market through their early games, and how they use consumer feedback to develop their products. He will conclude with a overview of the brands of Rock Band and The Beatles and their influence on the Harmonix brand. (Check out this New York Times article for background information on The Beatles: Rock Band.)
Eran is an accomplished musician who brings extensive technical and musical expertise to the Harmonix management team. He earned his B.S. and M.S. degrees in Electrical Engineering from the Massachusetts Institute of Technology. He then conducted research on combining music and technology at the MIT Media Lab; which led to his co-founding Harmonix with Alex Rigopulos. Eran now manages the company's engineering staff, directs intellectual property development, contributes to game design, and helps drive corporate strategy. As a musician he's performed frequently in MIT's Balinese Gamelan, Chamber Music Society, and Symphony Orchestra, and currently spends much of his spare time playing clarinet in Boston's Radius Ensemble and other local classical music groups. He also mentors local entrepreneurs by giving talks and working with organizations such as TechStars, The MIT Enterprise Forum, and the MIT 100K competition. In 2008, Eran and Alex Rigopulos were named in Time Magazine's list of the one hundred most influential people in the world.
6.078 The Founder's Journey is a class about finding and activating your entrepreneurial energy. What road are you embarking upon in starting a company, and what obstacles threaten your success? What else and who else will you need? If you want to start a company, 6.078 will give you the chance to live the steps to bring that passion to fruition, with substantial exposure to mentors and leaders from the business community. You'll learn by doing. We'll have guest speakers who have travelled this path, successfully and unsuccessfully. Although we will cover the basics of new venture creation, this is not a class about how to write a business plan. Rather it's about grasping the essence of the journey you're about to undertake. This class will guide you to rigorously think about the challenges you'll face in building a business. It will teach you to appreciate and nurture the intangibles that make the entrepreneur special. Even if you're not ready for a startup, this class will provide an exploration of leadership, innovation, and creativity as seen through the lens of a startup founder. We'll gain a broader insight into turning any novel vision into action.