GAMBIT is Three
Happy Birthday to you
Happy Birthday to you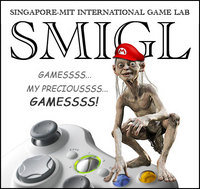 Happy Birthday dear GAMBIT
Happy Birthday to yoooooooooou!
The Singapore-MIT GAMBIT Game Lab was started exactly three years ago. There wasn't really a "lab" in 2006, let alone the two R&D facilities at MIT and Singapore that we work in today. Just a tentative written agreement, a couple of lengthy papers justifying a need for a "Singapore-MIT International Game Lab" (the picture shows what Geoff thought of that name when it was announced... hence, our current acronym!), and a couple of plane tickets to Boston.
This is for everyone who has ever come through GAMBIT: in the Singapore lab, twelve timezones away in the MIT lab, representing at Indiecade, leading our research, studying for degrees, funding the program, or working in game/media companies all around the world. From the bottom of my heart, thank you for all the awesomeness... it wouldn't have happened without you.