(Everything I Do) I Do it for You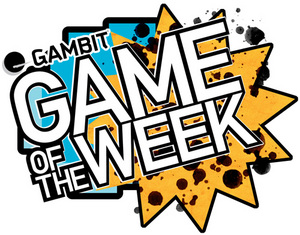 We Belong
I cannot recall with any certainty when precisely the Game of the Week idea was born. That is to say, I cannot pinpoint a singular moment where the idea for a running web series of behind the scenes content from our 9 week summer program came about, which likely speaks to the fact that it was not a "pop" into your head idea, but one that developed from a collection of conversations and ideas at the office.
I do remember that I was thinking about web traffic, and how we could draw more attention to our GAMBIT web presence. A good friend of mine, when talking to me about personal fitness, told me that doing the same action, everyday, for thirty days will make that action habitual. I am not sure of the scientific merits behind this statement, it may be the equivalent of Cosmopolitan science (lose 50lbs in 1 week with these 5 tips), but the core idea of doing an action repeatedly for an extended period of time, leading to a habitual continuation of that action, seemed like what we needed for our website.
I have a daily Internet routine. I check my email. I read the same news sources for the game industry. I flag particular articles that are of interest to me for reading later. Depending on what season, I check my fantasy sports team(s). I am a single hit to these sites, but more importantly, I am habitually hitting their sites. A primary goal for the GOTW series was to create habitual visitors, like me, to our site.
The Search is Over
We had huge coffers filled with content from the summer. We had digital coffers and hard-copy coffers. Even in a relatively short 9-week production cycle, the absolute glut of concept art, prototyping materials, game design documentation, production documentation, sound assets, concept music, etc. is impressive. At no point in the entire GOTW process was there any concern that we would "run out" of material to present. We knew we had the goods, there was some question as to how to present them.
Faithfully
I have an unrelenting fondness for 1980's power ballads. Maybe it is the Roland Jupiter-8 String patch. Maybe it is the soaring vocal lines. Maybe it's the hair.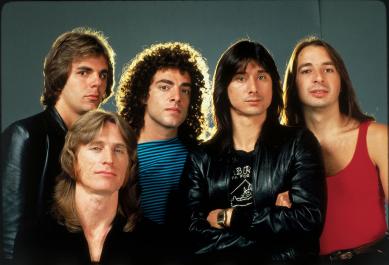 It was a late afternoon at the lab, and while playing around on the keyboard, I started hammering out "Separate Ways" by Journey. Why? I don't know, cause it is awesome!?! A few hours later plus a ridiculous vocal session, and the parody, "This is the Game of the Week," was born. I was simultaneously proud and ashamed. It was somewhere between a moment of greatness and downright absurdity. I couldn't stop giggling however whenever I listened to it.
We concocted some hair brained schemes to replicate the hilarious original video for the song. It involved an abandoned train station, jean jackets, mullet wigs and Ms. Pac Man. Like many brilliant ideas, we released it to the ether, where it continues to haunt and inspire us to new levels of ridiculousness.
Video Killed the Radio Star
The lab had begun taking steps to keep video records of our work, and to publish small video podcasts about the projects here at the lab. This coincided nicely with the GOTW series, so we took the opportunity to interview each embedded staff member from each game to get insight on the projects. This was, to me, the greatest success of the GOTW series. I was learning things about the projects that I never knew from these interviews, and more importantly it put live faces and voices on the great people who make this lab churn out great work all the time. It is tremendously important that we are not singularly defined by what we've done, rather, we should also be known for the efforts and passions of those who are doing the work. I think the video podcasts presented that voice fantastically.
Digging in the Dirt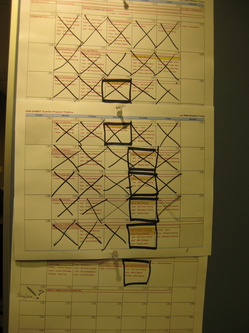 With the tremendous quantity of material available for the series, the next step was to organize, collect and schedule the posts for our blog. This is where the project began to hit a bit of a logjam.

Each team had some organization to their materials, but no single team had their work meticulously archived for later use. This is not the fault of the interns from the summer, for we had not asked them to do such archiving work, but as we worked to submit these posts for publication, digging through all the data and even literally thumbing through all of the hard copy concept art and documentation became time consuming and difficult.
I felt there were times when I missed documenting important parts of the design process for some of the teams simply because I ran out of time to look for the artifacts or simply couldn't find them. I knew there were earlier builds for many of the projects complete with temp art and important design steps to acknowledge in the GOTW series, but they may have been left out simply because the artifacts of their existence were not properly archived.
Take Me Home
I wish I could tell you that our web readership jumped to youtubian levels as a result of our efforts. I wish I could point you toward the handful of news sources that picked up the series and gave us a mention. I really wish I could tell you that. I can't because it didn't happen, and if I did, you would call me a liar.

However, I do believe that what we learned from the process is most important, and moving forward we have tested and proved the concept of a "Game of The Week" series on our website. We have also learned to improve the organization of our archiving process across the board.

I do hope some of you had the time to read through some of the content from the series, and if you have not seen it yet, I encourage you to head over and look at some of the work our student-interns created over the summer. I hope it inspires you to do some great work of your own, or maybe just stop to play for a little bit longer during your usual day.
After all, we made these games... for you.