Open Focus Testing: Thursday, November 19th, 5 - 7 PM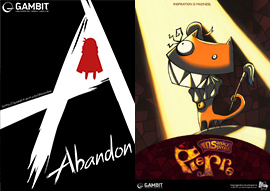 Focus Testing: November, 19th, 2009!
Games! Opinions! Munchies!

When: November 19th, 5 PM to 7 PM
Where: The Singapore-MIT GAMBIT Game Lab, 5 Cambridge Center, 3rd
Floor (aka MIT NE25, 3rd Floor)
(Please introduce yourselves as visitors to GAMBIT in the lobby when you arrive.)
On Thursday, the 19th, please come visit the GAMBIT Lab to play and give us your opinions on two of the games we've been working on this Fall, Abandon and Pierre! These two games were initially developed over the summer.
Abandon is a whole new game, with nearly 50 new levels, many new features and exciting new gameplay.
Pierre has added new levels, new art, and new sounds, and the gameplay has been improved and updated.
We are excited to see people playing our games, and we look forward to hearing your opinions about them. We take our focus testing seriously - come on in, and let us know how our games are playing, so we can keep improving them!