The Revolution Begins Tonight!
A Casual Revolution: Reinventing Video Games and Their Players
Monday, November 9, 2009
5-6 PM at the Singapore-MIT GAMBIT Game Lab
Jesper Juul chronicles the rise of the casual games: puzzle games, the Nintendo Wii, and music games. These are video games that reach beyond the traditional video game audience; games that redefine what a video game can be, and who can be a video game player.
Just published by MIT Press, A Casual Revolution is Jesper's take on what is happening with video games right now: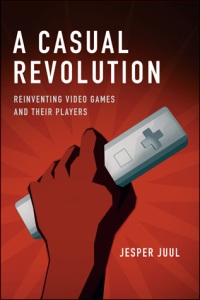 Why is the Nintendo Wii more successful than the Xbox 360 and the PlayStation 3?
Why is the audience for video games expanding?
Who plays Bejeweled, and why?
What is a casual player? What is casual game design?
Are casual games a return to the arcade game, or are they something new?
How did Solitaire become one of the most popular video games?
What is the secret behind the success of Guitar Hero and Rock Band?
Why is Parcheesi/Ludo a social game? Why is Animal Crossing?
Does the rise of casual games mean the downfall of hardcore games?
... and more!