Video Game Orchestra Presents ~Awakening~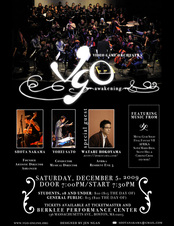 The Video Game Orchestra (VGO) will hit the Berklee Performance Center (BPC) stage again on December 5th, 2009 at 7:30 pm, nine months after its previous premium sold out success at the venue.
Nearly a hundred musicians will be presenting new arrangements of the classic such as Super Mario and Final Fantasy, as well as music from newer games such as God of War, Silent Hill, and Metal Gear Solid. Featured guests include Wataru Hokoyama, an accomplished film/video game composer. His score for the SONY Playstation3 game "Afrika" has won him both critical acclaims and industry awards. He will be guest conducting an orchestral suite of Afrika.
"This concert ~Awakening~ is going to feature the full VGO, as it is waking up from a long 9 months of sleep," said Shota Nakama, the founder and director of VGO. "We will be representing diverse styles of music and our renowned symphonic rock style with even better, impressive performance quality. We will surprise you."
The concert is $10 for students or 18 under, and $15 for the general public ($5+ on the day of). Purchase can be made at either Ticketmaster or Berklee Performance Center, located at 136 Massachusetts Avenue, Boston. (visit berkleebpc.com or call 617-747-2261 for more information.)
A pioneer in raising awareness of video game music repertoire, VGO makes its tribute by performing non-stop at different venues and video game related events. The show this early May in front of about 5000 people earned VGO praise for its outstanding performance and contribution to the video game industry. As what Boston Local media described, VGO "is the new sound for the new generation."
About the VGO
VGO is a contemporary orchestra that performs orchestral arrangements of video game music. Founded in May 2008, VGO is the first and only student-run orchestra that showcase these interactive media compositions. It comprises of a 45-piece symphony, a 40-piece choir, and a 5-piece rock band. The regional and international award-winning musicians come from over 20 countries. This multi-cultural diversity contributes to the source of VGO's unique signature.
Contact info
Shota Nakama
Creator/Artistic Director/Arranger
253-468-8196
shotanakama@gmail.com
Po-Ya Chang
Production Manager
poya.chang@gmail.com