Be Excellent to Each Other
Marleigh and Philip's paper on fun in the workplace, submitted to CSCW 2010 Conference workshop "Fun, seriously?" got a nice little shout out from Henriette Cramer out in the blogosphere.
Marleigh and Philip's paper, cheekily titled "You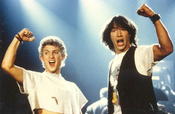 Get Paid to Do That?" can be read here along with the other papers accepted to the workshop. It is about how much fun we have at work, and it uses verbiage culled from noted scholars Bill S. Preston, Esquire and Ted "Theodore" Logan. It is a hoot. You should go read it.
And Henriette, so glad you liked the paper. Thanks for the mention!
San Dimas High School Football Rules!