CarneyVale: Showtime promotion continuing through April 2010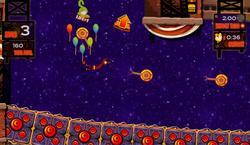 We reduced the price of CarneyVale: Showtime on Xbox Live Indie Games to 240 MS Points (US$3) for PAX, and we realized that folks might actually want to, y'know, get back home before downloading new games to their consoles. So we're keeping the promotion going until the end of April! If you played CarneyVale: Showtime during PAX, there's a lot more to unlock in the game: Rocket rodeos, mid-air boosts, accelerators, plus different cities and music!
Pick it up from the Xbox Marketplace today. Tell your friends! Let everyone know!