PAX East 2010 Countdown: Carneyvale: Showtime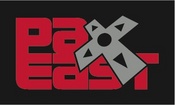 The big show, PAX East, is 24 hours away and there are still two more games left to showcase as part of our pre-PAX coverage. The next two games were developed at our Singapore lab by graduates from the Singapore-MIT GAMBIT Game Lab's summer program. Carneyvale: Showtime is the first game created by GAMBIT for distribution and sale on a video game console, the Xbox 360 via the Xbox LIVE Indie Games platform. Carneyvale: Showtime has received numerous accolades, winner of the DreamBuildPlay 2008 Grand Prize, Finalist at the 2009 Independent Games Festival, and featured as one of the PAX10 at PAX 2009.
Carneyvale: Showtime will soon be available for the Games for Windows platform, and to celebrate we are pleased to offer the Xbox version at a reduced price of 240 points for the duration of PAX East 2010, starting Thursday at 9PM, Eastern time!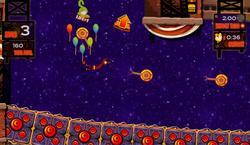 Unlike the first four games showcased this week, Carneyvale: Showtime did not begin with a research question. Instead, the game served as the first commercial game created from one of our summer program's prototype games. Wiip, created during our first summer program in 2007, was a game to explore use of the Wii controller with a specific challenge: create a game based around an expressive physical interface, in this case a whip. Carneyvale: Showtime is a spiritual sequel to Wiip, not just in its art style, but in the use of 'physicality' as a mechanic. Rather than a literal physical interface as in Wiip, Carneyvale: Showtime uses the Farseer physics engine to create a unique experience of acrobatics through a rag-doll physics simulation.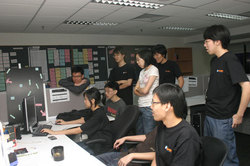 Aside from the accolades the game has received, Carneyvale: Showtime's other achievement, and what truly makes it a GAMBIT game, is that it was developed in under five months by a young team using an agile production method, Scrum, and with much emphasis put on systematic testing as part of the full development process. For more information on the development process, check out the audio and slides from Lead Programmer Bruce Chia's Postmortem given at Casual Connect Seattle 2009.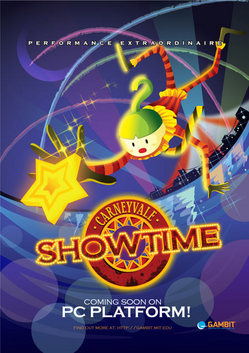 Carneyvale: Showtime will soon come to the Games for Windows platform, featuring:
> New arenas!
> An improved level editor with level sharing with other players.
> More levels! Secret unlockables!
More information about the Games for Windows version will be posted to our site as it comes out.
You can purchase Carneyvale: Showtime for Xbox LIVE today for 240 Microsoft Points (US$3) starting Thursday (9PM Eastern) through the end of PAX via the Xbox Marketplace.
Tomorrow: Snap Escape