CarneyVale: Showtime is coming to Windows Phone 7!
If you're following the news coming out of Gamescom 2010, you may have caught Microsoft's announcement that they will be publishing CarneyVale: Showtime to their new mobile gaming platform!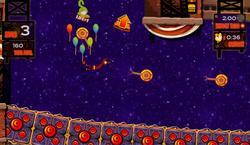 Microsoft's mobile gaming portfolio also will appeal to Xbox's millions of gamers, he said. Popular games like "CarneyVale: Showtime" will be ready to play this fall when the phone launches, for example. But going beyond bringing Xbox games over to Windows Phone 7, Microsoft is building mobile experiences that connect with and complement the Xbox 360 experience, Unangst said.
We're super excited to be working with Microsoft to bring our XNA game to Windows phones, and it seems like they're really happy with our game too. As Michael Klucher writes on The Windows Phone Developer Blog:
CarneyVale first showed up on my radar when it was submitted for an entry in our second annual Dream.Build.Play contest circa 2008. As a member of the judging team that year, I was simply blown away at how polished the game was and how fun it was to play....

For the Windows Phone 7 port of CarneyVale: Showtime, Team GAMBIT partnered with Microsoft Game Studios to integrate Xbox LIVE services available on the platform. In order for us to succeed, we want all types of content on Windows Phone 7, including games that are innovative and introduce concepts that are new to players. CarneyVale: Showtime is just that type of game.
The Windows Phone version we're working on will be as close to the Xbox Live Indie Games version as we can possibly make it, obviously with some tweaks it for optimal performance, functionality, and resolution for a portable platform. Our aim is to bring the original award-winning CarneyVale experience to as many people as we can possibly reach.
Also, remember the PC version of CarneyVale: Showtime we announced at PAX East? We'll be serving up a couple of twists with the PC game, levels, and circus props. So if you're a fan and can't get enough CarneyVale, expect to find different maps and different controls on the phone and on the PC, but it will all be married to the same high-flying acrobatics, circus music, and bizarre worlds you've come to love on the Xbox 360.