CarneyVale: Showtime now available on Games for Windows and Windows Phone 7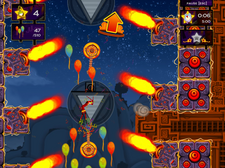 CarneyVale: Showtime is now available for Games for Windows - LIVE! Introducing new props and more power-ups, fling Slinky across deadly hazards and complex arenas. Help Slinky the Ragdoll restore lifeless cities back into their full vibrancy as he performs gravity-defying stunts through insane levels!
Create and share your very own levels and try out maps from other players with our new and improved Map Editor. Unlock bonus levels and our secret character!
We're also proud to be one of the Singapore developers selected for the global launch of Windows Phone 7! Now you can carry the circus in your pocket. Launch Slinky into the skies with the cannon, activate trapeze-like Grabbers to fling him around increasingly complex and hazardous arenas, deftly avoid perilous elemental obstacles of fire and electricity, while bursting trails of balloons along the way, grab on to Rockets for exhilarating rides!
Perfectly execute acrobatic tricks to unlock achievements and boost your gamerscore. Soar through the Ring of Fire before the time runs out! Every successful show is rated with stars by the Carneyvale Press. Gain their approval by finishing with a flawless run, bursting all balloons, finding the secret star start hidden in the level-all within the time limit of the performance. Earn more stars to increase your rank and become the true legendary acrobat!