GAMBIT Exhibit Grand Opening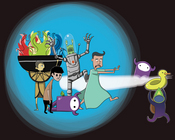 Come one, come all to the Grand Opening of the GAMBIT exhibit at the MIT Museum!
Date: November 12th
Time: 5:30-7:30pm
Place: MIT Museum, 265 Massachusetts Ave, Cambridge MA
Admission: Free
In October, the MIT Museum opened an exhibit featuring our humble lab. Visitors can learn about GAMBIT processes, play the 2010 summer games, or even participate in research with Pierre: Insanity Inspired.
On November 12th, the museum is throwing open its doors for a celebration of GAMBIT research. GAMBITeers past and present will show off their work, combining the traditions of entertainment software with cutting edge research. Executive Director Philip Tan will give a lecture--short and snappy, he promises--about game development at MIT. And as always, playable GAMBIT games will be available to amuse, engage, and enlighten our guests.
Bring your questions and your curiosity as you learn how fun and games are not just... well, you get the idea.