EXTINCTION - Global Game Jam 2011, Day 2
In my last post, I gave the pitch titles for the games and wondered if anyone could figure out the theme based on them. Our theme is: EXTINCTION. Which is oddly dark considering we got the theme after seeing Keita Takahashi's, um, inventive keynote. Which I am now allowed to show you:
Later tonight, I'll post the games. I've been able to play a few of them today, and I must say I am impressed by the level of quality and quantity that our jammers have maintained this year!
For now, here are some quick photos I took while I tried to stay out of the jammers way. We'll post more to our Facebook and Flickr pages after the Jam.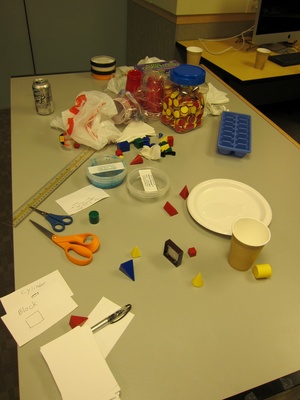 The Aftermath of Prototyping Non-digital Games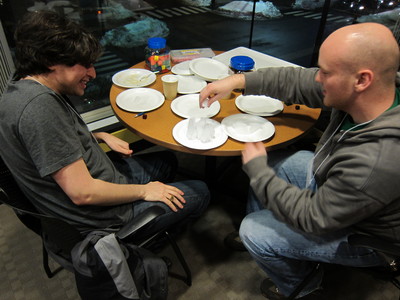 Not all non-digital board games use a board! Some use a napkin. And plates. And ice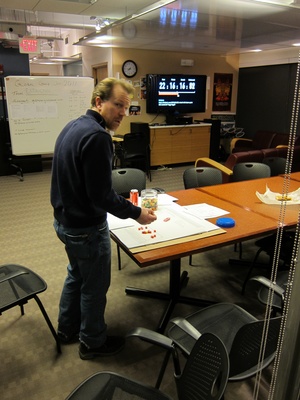 Don't disturb the level designer!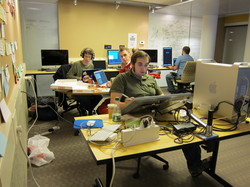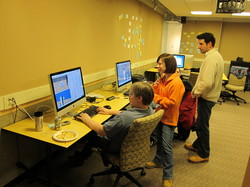 Looking at computer screens, deeply.

Some of our games have their own Twitter feeds. Try these: @twitapocalypse and @savepunk
Our stream is still live, tune in now to watch the activity increase until the 3PM turn in time and from 3:30pm until 5:00pm when we'll be presenting all of our games.