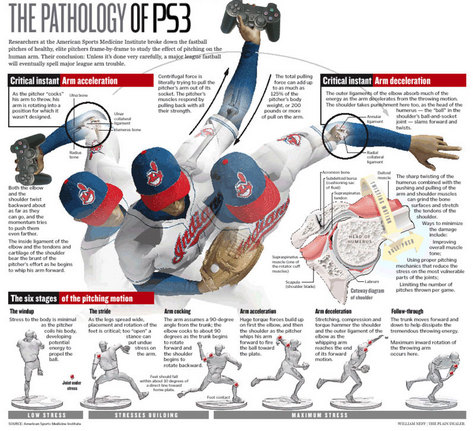 With the popularity of the Wii and the release of Kinect and Playstation Move, a lot has been made in the past year about kinesthetics and mimetic interfacing. While the sports simulations may seemingly close the gap between skill and lack, believe me if I could actually hit a curveball I wouldn't be in front of the tv! For many of us, the controller still affords greater freedom of interaction, and greater control of actions in simulated sports games.
This years baseball sim for the PS3, MLB 11: The Show, exhibits some truly excellent interface design for the hitting and pitching mechanics, building on a long forgotten feature of the last generation of EA baseball titles. I'll talk about how the game is played through the standard Playstation controller, we'll talk a bit about standard baseball (non-digital) mechanics, and we'll explore how the thumbstick interface for pitching and hitting in MLB 11: The Show is a great analog for the motion and strategy involved in the real life skills.
We are also streaming our Friday Games series now. So if you aren't in Cambridge, tune in here tomorrow, Friday April 29th, at 4:00PM.