Friday Games 04/22/11 - A History of eSports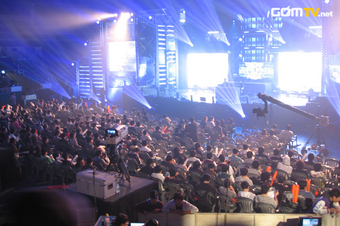 This week at Friday Games Owen Macindoe will lead a discussion on the history of eSports, the viability of pro gaming in the west, designing games as eSports, and the presentation of eSports in Korea and the west.
Owen says:
"Over the last ten years in South Korea, Blizzard Entertainment's Starcraft: Brood War has drawn crowds of as many as 100,000 spectators to watch players compete at the highest level of competition for prizes of up to US$50,000.
An entire industry has developed in Korea around competitive video gaming, also known as eSports, with professional gamers able to make a living from tournament winnings and sponsorship deals in a manner comparable to regular athletes, and with matches screening on prime time television. Large, competitive video game tournaments have also existed in the western gaming circles for more than 20 years and international tournaments with large cash prizes have existed for more 10, but eSports has yet to have the impact in the west that its has enjoyed in Korea.
Driven by the release of Starcraft 2 in July 2010, the visibility of eSports in the west has dramatically grown over the past year, with the number of tournaments and the size of the prize pools involved reaching a level that matches the Korean scene. The recently launched North American Star League and the upcoming IGN Pro League, both inspired by Korean Starcraft leagues, are the latest in a series of high profile tournaments that aim to both grow the audience of eSports and make pro gaming a viable profession in the west.
Cottage industries of commentating on games, coaching aspiring players, and streaming matches from a first person perspective have recently also become viable means of supporting pro gamers. It seems like after many years of languishing in relative obscurity, eSports is finally poised to break through into the mainstream in Europe and North America."
Join us at 4pm in the GAMBIT lounge. As always there will be cookies and veggies.