Friday 5/20/11 - Jibe demo from ReactionGrid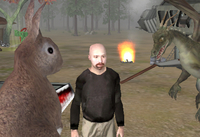 Friday Games at GAMBIT is ending for the semester, we'll see you in the fall. To end the series, we have a guest presentation from Chris Hart (CTO) and John Lester (Director of Community Development) from ReactionGrid! They will be presenting a live demo and overview of Jibe, focusing on how it can be used by game developers interested in creating multiuser 3d environments.
The talk will start at 4pm Eastern Time at the Singapore-MIT GAMBIT Game Lab, and will be simultaneously livestreamed at http://gambit.mit.edu/live.
Here are some more details about Jibe and what you can expect from the talk:
Jibe is a multiuser virtual world development platform from ReactionGrid. The Jibe platform is an extensible architecture that uses a middleware abstraction layer to communicate with multiple backend systems (currently SmartFox & Photon) and frontends (currently Unity3D, ready for WebGL). Current deployments of Jibe worlds utilize the Unity3D web plugin, with iOS and Android support under development.

Additional features include customizable 3D avatars, private/public text chat, Vivox voice integration, hooks for Augmented Reality/SCADA/robotics/telemetry applications, a built-in registration database, detailed logging of inworld events and user tracking, and the ability to integrate with preexisting user registration systems (including FacebookConnect). Jibe platforms can be hosted by ReactionGrid or deployed on your own servers.