Video Games 101: Today, 6pm, MIT Museum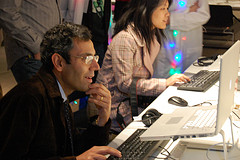 Hopefully you've been enjoying the Cambridge Science Festival as much as we have. After the success of our open house Saturday, now we move over to the MIT Museum for an event showcasing the local game industry.
For SCIENCE!


Video Games 101
Thursday, May 5, 6-8:30pm
MIT Museum @ 265 Massachusetts Ave
Teenage and older.
6pm - Recess
Our team of "professors" are ready to answer your questions! Play games and demonstrations from Owlchemy Labs, Fire Hose Games, Gradient Studios, SCVNGR, Zynga - Boston, the MIT Media Lab, and the Singapore-MIT GAMBIT Game Lab. Also look for other pros wandering the halls.
6:45pm - First bell
Classes begin as our experts give short talks about different aspects of video game development.
Brain Surgery: Artificial Intelligence in Video Games
Damian Isla, Moonshot Games
Design: Collaboration
Dean Tate, Harmonix
Graphic Visualization: The UI Art of Dance Central for the Kinect
Adam Carriuolo, Harmonix
Psychology: Causing Fear and Anxiety through Sound Design in Video Games*
Ahmed Abdel-Meguid, 38 Studios
7:45pm - Pop Quiz: Question & Answer session
Damian Isla, Dean Tate, Adam Carriuolo, Ahmed Abdel-Meguid
8pm - Study Hall
Last chance to play games or talk to professors before the final bell.
8:30 - School's out.
* This talk uses examples from a video game rated Mature for Blood and Gore, Intense Violence, and Strong Language.