Weeks One and Two of the 2011 US GAMBIT Lab Summer Program
From June 6th to August 8th, 2011, the US Lab of Singapore-MIT GAMBIT welcomes over 40 interns from various Singaporean Universities as well as interns from Berklee College of Music, Rhode Island School of Design and of course, MIT to participate in a nine week intensive program creating videogames from research begun at MIT and in various Singapore universities. We have also invited mentors from Singapore to assist and observe the interns so during this summer's program we can update you on the intern's progress through their notes and photographs.
Week 1 & 2 with Experimental Narrative, Social Social and Human AI Trainer by Andrew Tan, Lecturer, Ngee Ann Polytechnic School of InfoComm Technology:
First 2 weeks in Gambit has been really fun and eventful. The journey was really long and fortunately no one fell sick. And we cleared customs really quick.
On to the projects, there are 6 projects this summer:
• Procedurally generated puzzle, with the theme on Singapore (a Singaporean auntie I last checked... :?).
• LGBTQ game.
• Soft body physics game.
• Social game.
• Human AI trainer.
• Experimental narrative design.
These are really good and interesting stuff. During the first week, there were brainstorming sessions going all around. There were really interesting and fun to watch, as the last time I did so was in my previous job in the industry. It was really interesting to see the many ideas being thrown out with so many young and creative minds about. The workshops also help pretty much as it was both short and informative.
At the end of the second week, the teams presented their project idea for review. I had the opportunity to observe 3 teams.
• Experimental Narrative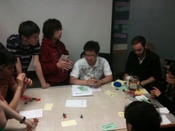 The team ran a boardgame through their reviewers, Philip and Rick. The idea was a WW1 soldier, lost in the battlefields of France. The soldier has to explore the area, finding out what's going on and at the same time, battle the cold, hunger and injury.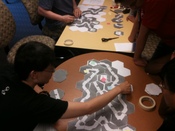 • Social Social
The team ran a boardgame through Philip and Andrew, where each had to create a puzzle for the other to solve. This idea for this game is to be mounted on Facebook where players can invite and challenge friends to solve puzzles. In the process, they can gain prizes and have a more meaning social gaming experience.


• Human AI Trainer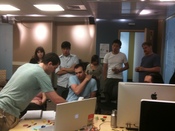 The team ran through a simulation to Clara and Abe. Their game is pretty much a programming game where the AI is trained to "react" to situations as the game progresses in levels. This game is pretty interesting with elements of eco-teaching, fun characters and challenge aspects.

It was really great watching all 3 groups in action and I found out more about the other 3 groups later on. Now, rather than share on each group's learning points and progress (it's all in the wiki!), I would like to share a little on learning points for myself.
• Group dynamics are really important. An ideal group would function together in rhythm. But each group here comes from different school, each with a diverse background and training. It has been awesome to see how each group, under experienced mentorship, achieve a game idea during crunch conditions.
• Using a boardgame to simulate/test a game idea is really cool. It allows the team and reviewers to see how the game will be played out. And in the process, discover potholes and stumbling blocks, formulate new rules and actions, in general, improve the game idea. Or the boardgame will also trash your idea as you discover that it is not really fun to play.
• I have also this struggle the game ideas over at Gambit. The main grouse is that the ideas here are all experimental in nature with no commercial purposes. In Singapore, the projects we developed should ideally be distributable with commercial goals, if possible. Down here, it's about having an idea and experimenting with it. Which is really strange but an interesting concept.
• The working environment also plays a major part. Gambit is a really conducive environment that allows for creative thinking, team development, crunch time working and team bonding. Hopefully, I can implement elements of this back in RHyMeS Centre.
Summer Program Review of Teams 1 and 3 by Gerard Richard, Audio Lecturer, SAE Institute:
What has been really interesting for me thus far is to be able to see how the different dynamics within the groups come together. There seems to be many ideas being bounced around. Not to say that all the ideas were approved but it's always good to get more ideas and then pick the best one than having just ONE idea for the game design.
What has also been an eye opener for me is the culture and work ethics here. By making sure that there's no work to be done after 5pm, you get the feeling that the interns put in a lot of extra effort during work hours thus making them more productive.
This past week has been more focused on design reviews where the respective product owners guided the teams a lot on what is expected of their game and if the objectives have been met. Personally for me, coming from an audio background, it's been really good so far learning a bit more about game design just from watching the interns work with the guidance of their respective product owners.

Team 1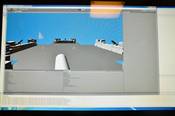 A lot of ideas have been thrown around within the group and up till this point the group has come up with their concept for the game but are still at the stage of coming up with the finer details. They do however; have a prototype of what their game will eventually be. The element of soft body physics seems to be something new to a lot of members in the group. The location this game will be exhibited in is the museum, so the group came up with the idea that they could do a game that would incorporate a 3D element to the game, with four different players facing each other would be able to shoot cannons from within their console to someone else's console.
Team 3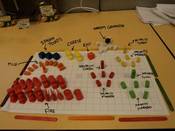 This team has come up with an game that deals with AI where small robots tend to plants in the forest. I would think it's a cross between the SIMS and Farmville maybe?
The team came up with their prototype with cubes and paper with each cube representing a different element within the game. The team seems to be working fast. I would assume this because the audio designer has already started work on sound effects which kind of means that he knows fairly well what's needed for the game. There design reviews helped the team a lot to answer some questions on some doubts that they had in regards to giving these "robots" a character that could relate to the people that will end up playing the game.
Review of The Fab Team by Russell Lee Yeow Hui of NAFA:
This team is working on a role playing game focusing on the subject matter of gay and lesbian and evolving things around them. The team is looking at creating a main character whose gender is kind of indecisive and vexed entering the world to express himself or herself in search for his/her identity. This is the group of people that are not generally accepted by the society at large.
This is a battle game not about destroying or killing the monsters or creatures that are commonly found in the gaming market; however, this is a battle that is within yourself in order to win back one's confidence and morale and accept yourself as who you are in the reality. The main character is set on for a mission like going for a personal quest dealing with all sorts of issues such as media, popular culture, finding inner peace, small and big battles in life. He or she will have to make decision, choose the ways to move on in order to reach the destinations.
The game aims to be a bit on the funny and entertaining sides with some fantasies perhaps, in order to give game player a feel good gaming experience.
There are generally two groups of target audiences: 1) People who are interested in the role playing game. 2) People who want to see new thing in gaming. In this respect, the content of gay/lesbian in gaming has not been explored in the gaming market to date and hopefully it will arouse interest among gamers.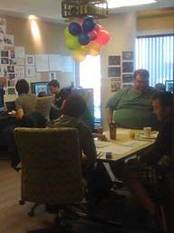 The character building is not specific yet and the environment or the game world will be kept small, probably a small town on an island due to constraints. The prototype will be built on an existing Japanese old school model. There is a possibility that the color of the environment might change from black and white to full color as the character moves on from strength to strength, gaining his/her confidence along the way.
Review of Weeks One and Two by Kenneth Feinstein, Assistant Professor, Nanyang Technical University-ADM:
• I mainly observed the groups FAB & Experimental Narratives. In both cases I found that the individuals in the groups worked very well together. From what I could tell the FAB group socializes outside of work time. The Experimental Narratives group does less activities as a group, but also has a strong social bond. They tend to do activities that includes people from other groups too.
• I noticed that the FAB project was much more focused on getting the mechanics of their project going. They were not as concerned with the narrative elements at this time. The impression I got was that they felt they had to get these issues sorted out first and then the details of how the narrative and user experience. They were making progress on the look of the game, but had not settled on a style.
• The Experimental Narratives group took a while to figure out the game in the first week and settled on it then. Since that time they have been looking at relevant art work and historical information. Their game takes place during WWI. Looking at their work space I can see how they have organized their process, with lots of note cards and lists on the walls. As would be expected, they have been focussing on narrative and usability in their group meetings. The mechanicals are developed in the paper prototyping stage they went through and the programing has been happening quietly in the background. Their product owner & game director meet with them on a very regular basis.

• The physics group is creating a game for the Museum of Science in Boston. This will be a physical installation. As a result their approach to game production is different. Although there is a great emphasis on the interface design and the playability they methodology is different. Paper prototyping is not as important here. They did make a small 3D paper model of the game. As a team they went into digital models fasters than other groups.

The interface they came up with was very well received by the game owner, the GAMBIT observing staff and the museum staff. Everyone felt that the game is both informative and fun.