Week Six Update Of The 2011 US GAMBIT Lab Summer Program
Week Six of the Summer 2011 GAMBIT Summer Program has the teams working on their games armed with the comments gathered from the first focus test. They now hustle to make the changes needed before week seven's final focus test happening July 21st. Visiting Singaporean Lecturer, Andrew Tan, gives you his view of the fourth week of the 2011 GAMBIT Summer Program. From June 6th to August 8th, 2011, the US Lab of Singapore-MIT GAMBIT welcomes over 40 interns from various Singaporean Universities as well as interns from Berklee College of Music, Rhode Island School of Design and of course, MIT to participate in a nine week intensive program creating videogames from research begun at MIT and in various Singapore universities. We have also invited mentors from Singapore to assist and observe the interns so during this summer's program we can update you on the intern's progress through their notes and photographs.
GAMBIT's Week Six by Andrew Tan, Lecturer, School of InfoComm Technology :
A busy 6th week has passed for the teams.
With the feedback given and digested, many changes were made and planned for week 7's Open House Focus Test 2. I see a lot of grim faces on the teams. The game designers are busy making adjustments to their games. The programmers and artists are huddled with their machines working zealously on their art. The producers are concerned about their deadlines. All in all, sounds just like any other team working on a project with a looming deadline.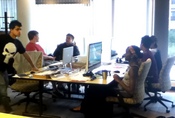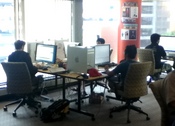 Not really much to talk about for the week as the teams are all busy crunching. Team Squeezicks made significant changes to their game; they have changed it to a space-like background to accommodate changes requested from their client. Team Planterra and team Hexology have changed their game mechanics a fair bit. Team Death by Durian have moved along and I see really good graphics being put into the game. Team MIA and Team Fabulous have also updated their gameplay as well.
All in all, a good and busy week. Let's all look forward to the next focus test.