Award-Winning Game Explores Puzzling Dreams
For Immediate Release
Symon, the Best Browser Game from the 2010 Indie Game Challenge, has been updated with new features and is now free to play at Kongregate. The thought-provoking video game invites players to walk through the dreams of a paralyzed patient. Developed by the Singapore-MIT GAMBIT Game Lab, Symon will receive 1 million free ad impressions, courtesy of Kongregate (part of the GameStop network).


Symon is an unusual game in its theme as well as how it plays. The player is in the head of the eponymous Symon, dealing with his regrets and yearnings. The goal is to help Symon sort out his problems in his dreams. As described by Dr. Clara Fernández-Vara, who led the project, "It's a game about thwarted hopes, but it tries to remain optimistic."
Traditionally, puzzles in point-and-click adventure games never change; once a player has figured them out, the same solutions will always work. Symon is unusual because it can be replayed many times with new puzzles. Each time the game is started, the player experiences a unique fragment of all the possible combinations that the game can generate.
Dr. Fernández-Vara explains, "The system that produces the game is based on Symon's personality. For instance, he'll never give children something that would hurt them. By figuring out the puzzles, the player learns more about the system, which is actually the character's mind. It takes a few playthroughs to figure out the system. There are also some characters and items that only appear on rare occasions."
Under the direction of Dr. Fernández-Vara at MIT, a team of nine students from USA and Singapore worked together to develop Symon during an intense 8-week 2010 GAMBIT Summer Program. Their challenge was to design a game that modeled how dreams work, presenting players with puzzles that were "logical, but not quite," in the same way that a dream makes sense while asleep but becomes nonsensical upon awakening.
As the elements of the puzzles could not be entirely random and required consistency for the game to be playable, this posed a significant design and technical hurdle. The Symon team rose to the challenge by developing computer algorithms that could generate puzzles with different solutions.
The design research of Dr. Fernández-Vara looks for new mechanics for adventure games. She is currently working on a new game that extends the same design and technological solutions to create even more complex puzzles and locations. At the Singapore-MIT GAMBIT Game Lab, her team has created a set of tools to facilitate the design of procedurally generated narrative puzzles. She hopes that "this work could be the foundation for a new paradigm to design and play adventure games."
The Kongregate Award for Best Browser Game at IGC will allow Symon will reach a much wider audience beyond university researchers and students. For Dr. Fernández-Vara, winning the award was a surprise and a testament to the talent of the whole team. "Seeing that our experimentation was significant enough not only for research papers but also for game competitions was very rewarding. Hopefully, Symon will also show that there are many themes one can make games about, starting with what makes us human."
For more information, please contact Patti Richards at the MIT News Office at +1 617-253-8923.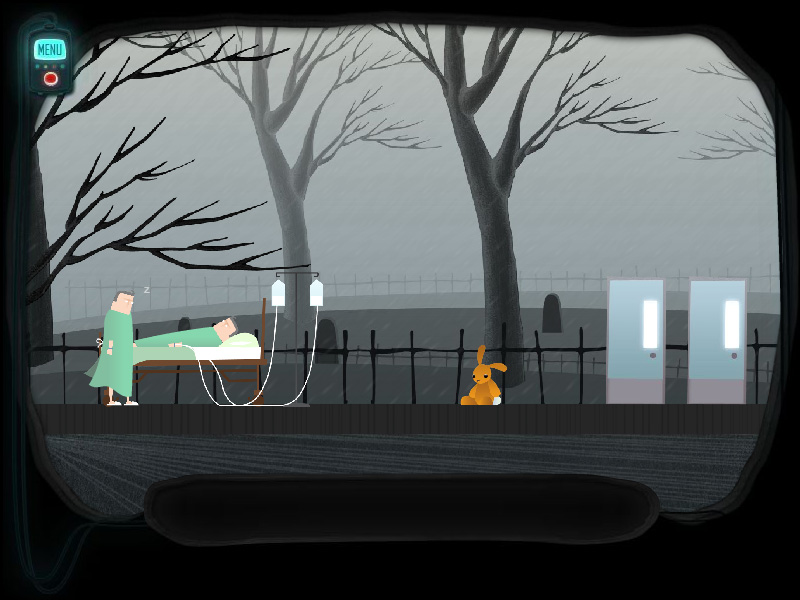 Screenshot of Symon, Copyright 2010 M.I.T. and MDA, All Rights Reserved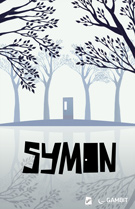 Poster for Symon, Copyright 2010 M.I.T. and MDA, All Rights Reserved
Additional Information
Singapore-MIT GAMBIT Game Lab
The Singapore-MIT GAMBIT Game Lab is a research collaboration between the Massachusetts Institute of Technology and the Interactive Digital Media R&D Programme Office hosted by the Media Development Authority of Singapore. The lab experiments with the theory, aesthetics, culture, craft, legacy, technology and play of games, developing, sharing, and deploying prototypes, findings and best practices to challenge and shape global game research and industry. GAMBIT builds collaborations between Singapore institutions of higher learning and MIT departments to identify and solve research problems using a multi-disciplinary approach that can be applied by Singapore's digital game industry. For more information, please visit gambit.mit.edu.
Media Development Authority
The Media Development Authority of Singapore (www.mda.gov.sg) promotes the growth of globally competitive film, television, radio, publishing, music, games, animation and interactive digital media industries. It also regulates the media sector to safeguard the interests of consumers, and promotes a connected society.
Kongregate
Kongregate is a leading browser-based game site with over 14 million monthly unique visitors who spend 28 million hours playing per month. As part of the GameStop Corporation network, the site features a unique community and social platform including achievements, profiles, chat, messaging, forums, and levels, which unifies more than 45,000 games into a cohesive and addicting experience. Kongregate shares revenue from advertising and virtual goods directly with over 11,000 developers who have uploaded games to the site. Advertisers include brands like Electronic Arts, Sony Pictures, Sprint, Frito Lay, Axe, Xbox 360, Nokia, and Toyota. While all games on Kongregate are free, the site also features a virtual currency called kreds, which can be used to unlock additional features in some games. Based in San Francisco, CA, the company was founded in 2007 by brother-and-sister team Jim Greer, a game industry veteran, and Emily Greer, an interactive marketing executive.
GameStop
GameStop Corp. (NYSE: GME), a Fortune 500 and S&P 500 company headquartered in Grapevine, Texas, is the world's largest multichannel video game retailer. GameStop's retail network and family of brands include 6,573 company-operated stores in 17 countries worldwide and online at www.GameStop.com. The GameStop network also includes: www.Kongregate.com, a leading browser-based game site; Game Informer(R) magazine, the leading multi-platform video game publication; Spawn Labs, a streaming technology company; and Impulse, Inc., a digital distribution platform available at www.GameStop.com.
Indie Game Challenge
The Indie Game Challenge (IGC) is an annual competition for video game developers offering more than $350,000 in prizes for professional and non-professional categories. Founded by the Academy of Interactive Arts & Sciences, GameStop Corp. and The Guildhall at SMU, the IGC was created to foster game development innovation by independent developers. Prizes include cash awards, scholarships, national consumer exposure for the top games and an opportunity for the finalists to obtain professional feedback and seek commercial avenues for their games through face-to-face meetings with representatives from the leading video game publishers. For more information on the IGC visit www.indiegamechallenge.com