A Closed World reviewed from all sides
It has been quite the news week for our Summer 2011 Game, "A Closed World". Let's look at what's been created, both pro and con.
Many LGBTQ web publications such as AfterEllen, The Advocate and GPhilly have positively endorsed the game with AfterEllen going as far as to "applaud the team for crafting something sensitive, compelling and important"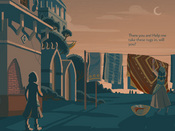 And a few not so flattering reviews of the game have arisen as well, including something unique for our game lab: a Stencyl created parody of "A Closed World" from the folks at auntiepixelante.com called, "A Closed Mind".