Friday Game 10/28/11-This Week Bites!
This week's Friday Games at GAMBIT we will be surrendering the lounge to the vampires!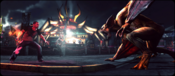 Come on by the GAMBIT Lab at 4PM today as our very own Philip Tan walks us through the crypts of some truly bloodthirsty games, including the newest iteration in the incredibly popular inFamous series, inFamous: Festival of Blood!!! Philip doesn't stop there as he shows us some truly fangorious titles such as Castlevania-Lords of Shadow, Majesco's BloodRayne 2, EA's Buffy The Vampire Slayer, Shadow Hearts-Convenant and the classic PC title, Vampire The Masquerade: Bloodlines.
We're on the third floor of 5 Cambridge Center! (Cambridge, MA 02142) If you can't join us, you can watch our live stream.