Friday Games 10/21/11 - 2012 IGF Pirate Kart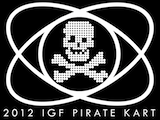 At 4pm this Friday, we'll be playing games from the 2012 IGF Pirate Kart! As Mike Meyer explains from the website:
A Pirate Kart is a very very inclusive game compilation made in a hurry. Jeremy Penner came up with the idea for the first Pirate Kart as a way for the Glorious Trainwrecks community to collaborate on something for TIGSource's "B-Game" competition. To galvanize the community, he set an absurd goal: make 100 games in 48 hours and package them as a single entry in the competition.

The IGF Pirate Kart continues the spirit of the Pirate Kart but with a new twist: instead of making brand new games for it, mostly people are entering the games that they are proud of, but not "big" or "polished" or "real" enough to be worth the entry fee.
The 2012 IGF Pirate Kart has been entered into the 2012 Indie Games Festival, but the games are already available via BitTorrent and mirror sites. You can check out the full list of games here.
We're on the third floor of 5 Cambridge Center! (Cambridge, MA 02142) If you can't join us, you can watch our live stream.