Improviso hits IndieCade 2011 while A Closed World garners more press!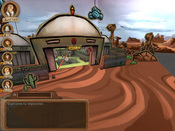 The GAMBIT Summer 2011 game A Closed World is still getting fine notice in the game press with reviews in Nightmare Mode, A New Days Work and Noobfeed. And just today we witness a positive review on Boing Boing.
Improviso goes to IndieCade 2011 and draws some attention from the good folks at ShackNews who go on to talk about other new indie titles, Hohokum and BasketBelle.