Friday Games @ GAMBIT - Artemis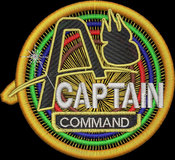 Set phasers for fun! This week at Friday Games we will be exploring strange new worlds, seeking out new life and new civilizations, and boldly going where no GAMBITeer has gone before! In honor of the new milestone set in commercial space flight by the Dragon spacecraft this week, we will be having some space adventures of our own.
Join us at 4:30pm where we will be playing Artemis, the Spaceship Bridge Simulator. We are seeking able-bodied men, women, androids, and post-humans to help crew our ship!