A Closed World selected for IndieCade!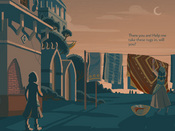 In all of the madness at the end of the summer program, the beginning of the new school year, and the relocation of our US lab, we forgot to update the blog with this awesome news: A Closed World has been nominated for the 2012 IndieCade Awards! From Oct 4 to 7, 2012, the IndieCade international festival of independent games will feature our game in multiple locations in downtown Culver City, CA. We're in great company (full list of nominees) and greatly honored for being selected for the festival.
G4TV is doing a series of stories on "The Road to IndieCade", and they included A Closed World in the Five Games You Should Have Played By Now article. If you haven't played it by now, well, here's the link!