PAX East 2010 Countdown: Shadow Shoppe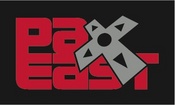 We're only two days from PAX East, but we've got three more games in our booth to tell you about! This next game, like the first three also made during the Summer 2009 session at the Singapore-MIT GAMBIT Game Lab, also serves as a research tool as well as a standalone game to be played on its own. Set in a town where the townspeople have lost their shadows, Shadow Shoppe is a matching game in which the player matches traits (descriptive adjectives) to shadows. Unlike other matching games, this one pits the player not against a preset list of matches, Concentration-style, but against the player's own actions. It is this gameplay that serves as the research tool.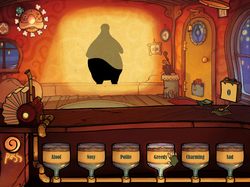 The challenge put to the team of students that created Shadow Shoppe was to create a game to collect character design perception data from the game player. Shadow Shoppe, when boiled down to the basics is a survey. The player is presented with a number of character silhouettes and is asked to assign traits to each silhouette based on the player's perception and judgment of what trait best fits the silhouette. In order for the data to be useful, however, required that the player play the game for an extended period of time. The team went through a number of prototypes and design ideas to try to figure out how to get the data from the player while keeping the player engaged. To satisfy these requirements, the team decided to create a game design that would pit the player against their own memory, to introduce challenge, and wrap it up in an engaging and polished fiction that fit well with the gameplay mechanic.
As part of our Game of the Week video series, Embedded Staff Jason Beene gives insight into the game's development, both in its design and its art style:

This video is also available to watch via YouTube.
You can play this game today, online for free: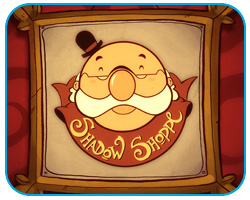 Tomorrow: multiple award-winner Carneyvale: Showtime!