Friday Games: Dance Central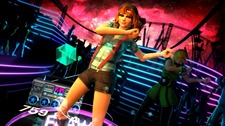 This Friday, we'll be playing the killer launch app for the Kinect: Dance Central! We also have a special guest for you: the game's lead designer, Dean Tate, will drop by for an informal question & answer session.
Local developers Harmonix Music Systems have yet again turned a bizarre peripheral into a must-have component of an incredibly engaging musical experience. This maintains a long-standing tradition from the PS2 network adapter in FreQuency to the keytar for Rock Band 3. We'll start dancing at 4pm, then Dean will take questions when we get to an appropriate break. We'll probably keep going as long as folks can stay on their feet. See you at the lab!