Friday Games: The Pirate Kart! 2012-in-One Glorious Developers Konference Kollection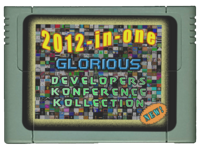 At 4pm this Friday, we'll be playing games from the 2012 GDC Pirate Kart! This compilation of more than 1000 games was put together in less than two weeks and attendees at the Game Developers Conference were invited to play them on the show floor. New games were being added even after the start of the conference. It was a real-time demonstration of the incredible accessibility of modern video game development tools and distribution.
The GDC Pirate Kart was also a follow-up to the IGF Pirate Kart, which was submitted to the latest Independent Games Festival, combining the efforts of over 100 developers in a 300-game package. Pirate Karts are about inclusivity, pride, democracy, blowing the doors open -- in fact, there are as many reasons for the existence of the Pirate Karts as there are games. You can download copies of both Pirate Karts from the website.
We're on the third floor of 5 Cambridge Center, Cambridge, MA 02142. If you can't join us physically, please watch our live stream and join us on the chat and recommend games that you want to see on the stream!