GAMBIT's Crappy Game Complaining Marathon Raises Over $4500.00 For The Boys and Girls Club Cambridge Clubhouse
On February 18th, 2012, The Singapore-GAMBIT Game Lab ran their first ever "Crappy Game Complaining Marathon" to raise money for The Boys and Girls Club Cambridge Clubhouse. In total we raised over $4,500 for The Clubhouse. On March 7th, 2012, the Executive Director of the Middlesex County Boys and Girls Club, Mechilia Eng-Salazar and the Director of Operations and Program Development, Dana Benjamin, along with Boys and Girls Club members Shane Thorpe and Jhanelle Bynoe, stopped by The GAMBIT Game Lab to accept a check of $4535.00 from me and GAMBIT Marketing Intern Lily Tran on behalf of GAMBIT.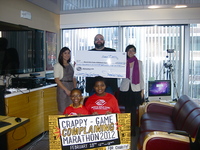 This "BEST OF" video features some of the funniest moments from the marathon and was produced as a thanks to all who volunteers and all who donated that day. You can still donate at the Crappy Game Complaining Marathon website. Video produced by Generoso Fierro, edited by James Barrile.
Crappy Game Complaining Marathon Thank You Video