International Hokra Association Northeast Regional Championships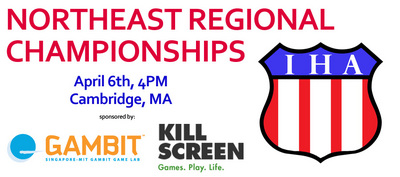 Live Stream!



Live video from your Android device on Ustream
Registration is open for the first annual International Hokra Association Northeast Regional Championships!
Competition is on April 6th, starting at 4PM at the Singapore-MIT GAMBIT Game Lab in Cambridge, Massachusetts. Teams of two players can register to compete in the regional competition. The first 32 teams to register will be entered into the tournament. First, second, and third round games are best of three, with the semi-finals and the finals best of five. Seeding for the bracket will be handled randomly. Teams that are eliminated in the first round will be moved into a secondary consolation bracket.
Sign up your team today!
Hokra Trailer from Ramiro Corbetta on Vimeo.