MIT ranked in the Princeton Review for Game Design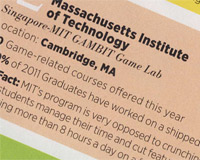 The Princeton Review has released their latest annual rankings of top schools to study game design and MIT is #2 for undergraduate education and #3 for grad school! It's an honor to be in such good company.
PC Gamer has printed more details from the annual ranking, specifically calling out the Singapore-MIT GAMBIT Game Lab in its look at the top-ranked colleges. There's more information there about each individual program, for folks who are interested.
Thank you to all of the GAMBIT staff, faculty, researchers, students, alums and friends for making this an awesome place.