Friday Games: MolyJam 2012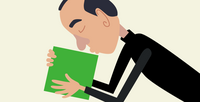 Earlier this month GAMBIT hosted the Boston arm of the first annual MolyJam, a game jam inspired by the tweets of @PeterMolydeux. @PeterMolydeux, purposefully to be confused with Peter Molyneux, is a satirical Twitter account that posts whimsical and ridiculous game ideas, riffing on the high minded aspirations of Molyneux and other avant-garde game designers.
In mid-March, Double Fine's lead programmer, Anna Kipnis, suggested that maybe these tongue in cheek ideas could actually be made into real games. This spurred game jammers around the world to come together in a global event organized over the course of a little over a fortnight to create games inspired by such tweets as:
"You are a small girl flying a talking kite. The kite seems to know about an upcoming major terrorist attack and floats towards clues."
"Romantic parkour game in which you and the love of your life must hold hands and jump around a city evading death and injury."
"Game where you control a full stop. Enemies read you stories and you have to jump in between words at the right time."
Come join us at 4pm in the lounge and see what jammers at GAMBIT and around the world managed to make of this madness! We'll also have our
livestream
up.