Week Three Update Of The 2011 US GAMBIT Lab Summer Program
In Week Three of the GAMBIT Summer Program, Visiting Singaporean Lecturer, Andrew Tan, from the Ngee Ann Polytechnic School of InfoComm Technology shares his thoughts about the third week of the GAMBIT Summer Program. This week the QA process has begun. See how it all went. From June 6th to August 8th, 2011, the US Lab of Singapore-MIT GAMBIT welcomes over 40 interns from various Singaporean Universities as well as interns from Berklee College of Music, Rhode Island School of Design and of course, MIT to participate in a nine week intensive program creating videogames from research begun at MIT and in various Singapore universities. We have also invited mentors from Singapore to assist and observe the interns so during this summer's program we can update you on the intern's progress through their notes and photographs.
GAMBIT's Week Three by Andrew Tan, Lecturer, School of InfoComm Technology :
The 3rd week came and went. All the teams are busy working on producing their 1st runnable. It was really interesting to see the teams at work and I have to say that I am very much impressed with the caliber of people at GAMBIT this summer.

Artists and programmers are getting busy. A lot of artwork and audio effects have been generated. As you can see, I have been following the team that is creating a soft-body physics game for the museum. They have progressed quite well and have even done up quite an impressive QA station.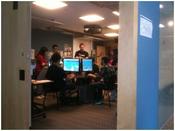 I attended a QA session chaired by Sarah. The purpose was to have all the QAs playtest each other's games. This is a really good idea as it allows for feedback to be gathered from different perspectives. A lot of fresh feedback was taken back by each QA with good moderation by Sarah. It was also good for the QAs as they became familiar with their games.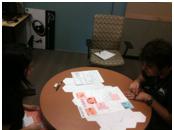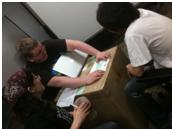 Some reflection for the week:

• The QA process started on schedule. As in any software development, I always believe that the QA work should start as early as possible. This will help to weed out any bugs along the way. In Gambit, this process is made better by having teams playtest each others' games. This can only serve to better improve game development.
• I see that all the teams have their goal set. Each team member knows their roles and responsibility. I am wondering when the cracks will appear.